Tax Preparation Services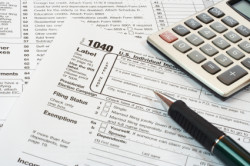 Are you dreading the idea of tackling your annual tax return? Are you concerned that you'll make a filing error and end up owing the IRS tons of money in penalties and fines? If you're worried about the prospect of having to deal with tax preparation, help is just a phone call away. Serving Tampa and the surrounding areas, The Levy Group of Tax Professionals is here to provide you with reliable tax preparation service as well as a variety of other essential tax services. Our tax preparers are well-versed in federal tax codes, so turn to us when you don't want to deal with the hassle of preparing tax returns. Call right away to learn more about our tax preparation services or to schedule an appointment with our tax preparer team!

While there are numerous tax preparation firms in the Tampa area, few can offer the expert results and dedication to customer service supplied by The Levy Group of Tax Professionals. We hold an A+ rating with the Better Business Bureau, and we're proud to be affiliated with the American Society of Tax Problem Solvers (ASTPS), National Association of Tax Professionals (NATP), and National Association of Tax Resolution Companies (NATRC). By being active members of these professional organizations, we're able to keep our tax knowledge up to date, and we can provide our clients with even better service. When you turn to a tax preparer from our firm, we'll ensure that you get the best possible result from your tax return.
With an eye for accuracy and precision, our tax preparers can handle:
Federal returns
Payroll taxes
Corporate taxes
Back tax returns
And more!
No matter how tough your tax situation seems to be, you can depend on our licensed and insured tax attorneys to provide you with swift, accurate tax preparation services. When you need reliable tax services to get you through a trying tax season, The Levy Group of Tax Professionals is here for you.
Affordable Tax Preparation Service
At The Levy Group of Tax Professionals, we believe that comprehensive tax preparation service shouldn't cost a fortune, and that's why we're proud to offer some of the most affordable income tax services in the Tampa area. When you need tax preparation services, you can breathe easy knowing that our income tax preparers are ready to provide you with top-notch service for a reasonable rate. To discuss your needs for income tax preparation or to get a free estimate for our services, get in touch with us today!
Tax Filing Service
Tax Prep Service
File Tax Service
Tax Preparation Services