Tax Penalties and Settlements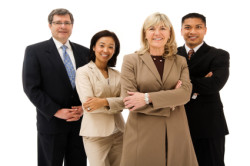 If you fail to pay what you owe to the IRS, you could be hit with steep tax penalties and fines that will cause your unpaid tax debt to skyrocket. From growing interest to wage garnishment and tax liens, there are a number of different ways that the IRS can assess a tax penalty against you and try to collect on the money owed. If you're currently suffering from income tax penalties, the odds are that you're panicked about what to do to restore your financial health and get back in the good graces of the tax authorities. Fortunately, you don't have to let federal tax penalties get the best of you. Instead, call on the tax abatement pros at The Levy Group of Tax Professionals. We're your top source for tax settlement solutions in the Tampa area, so turn to us when you're facing IRS tax penalty issues!

With help from our licensed and insured tax attorneys and enrolled agents, you may be able to secure a wide range of tax settlement options, including:
Installment agreements
Offers in compromise
Penalty abatement
Wage garnishment cessation
Lifting liens and levies
Innocent spouse relief
And more!
While tax penalties can be frustrating and even devastating at times, they don't have to take control of your life. With one call to our tax abatement pros, you can get started toward an IRS settlement that will end your tax issues. We'll assess your situation and figure out an effective tax debt reduction solution that will put you on firmer financial ground. Whether you're simply seeking penalty abatement or you'd like to secure an offer in compromise, our tax penalty experts can offer you the comprehensive assistance you need in Tampa to obtain the right tax settlements.
Tax Settlement Experts
At The Levy Group of Tax Professionals, we believe that providing top-notch taxes settlement service requires experience, and we've handled our fair share of tax debt settlement issues. With over two decades of experience helping local individuals and business owners reach favorable tax settlements, you can rest assured that we'll be able to find a solution that works for you. We offer fast turnaround times and affordable rates, so that you can get the tax debt relief you need right away and without stretching your finances even further. Don't let income tax penalties ruin your financial future or put you under a great deal of stress. Instead, call the IRS experts at The Levy Group of Tax Professionals to get the help you need to get back on the path to financial recovery. We're here to serve you!
Tax Fees and Resolutions
Tax Penalties
IRS Settlement
Tax Penalty Help
Tax Settlement